Tested successfully!!! professional engineers offers a all-in-one solution, to install 2017.09 xentry/das on windows 10, 100% working!!!!!!!!!!!! it solves all issues of SD connect C4 Windows 10 installation issues!
Xentry/das windows 10 all-in-one solution:
2017.09 SD connect C4 software Windows 10:
tested OK on SSD, runs faster than any versions
2017.09 SDconnect C4 software Windows 10:
tested OK on HDD, runs fast on Dell D630
SSD or HDD?
In general, SSD will run faster than HDD.
Take DELL D630 laptop; check the chart for detail: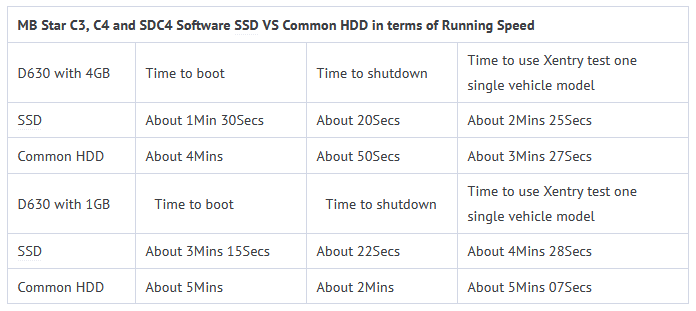 Also, FREE sdconnect 2017.09 software available:
https://mega.nz/#!F5xgXLyJ!p3nwBxN4JEZZPCdffuzrtpRG8HDJObUGhzB9E_REbKE
you can download 2017.3 SD connect C4 software on Mega; but i hold no responsibility of it coz it may be used with unknown security for not having tested yet.
Here: 2017.9 MB SD connect C4 runs perfectly on WIN 10
2017.09 sdconnect software win 10 test reports:
Basic obd2 electric system diagnosis…….YES
Online programming…….YES
Scn Coding………………………..YES
Read & clear trouble code…….YES
Read live data…….YES
Flash code…NO
Component test…………..YES
Adaptation………………….YES
Maintenance……………….YES
Information consultation….YES
Component location diagram….YES
Wiring diagram………………YES
sdconnect software win 10 SDD is much more faster than any other versions!