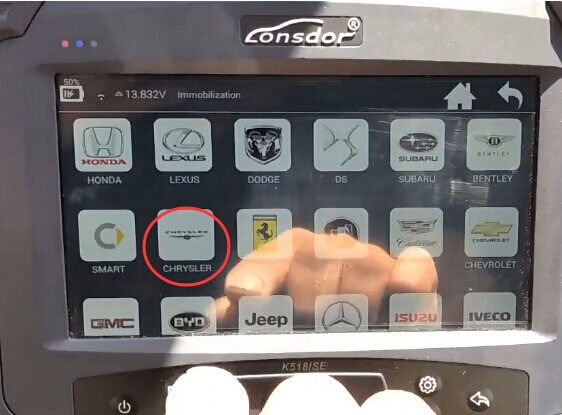 Question:
Hi.
I have a garage auto repair for Chrysler.
Look for a key programmer for good quality and price…to read pincode and program keys
Do you have any suggestion?
Answer:
Hi, bro.
Thinking you can have a Lonsdor for your Chrysler.
The new K518S will help you a lot. Also, you can get it at a reasonable price.
The test: Chrysler grand voyager 2010 read pin code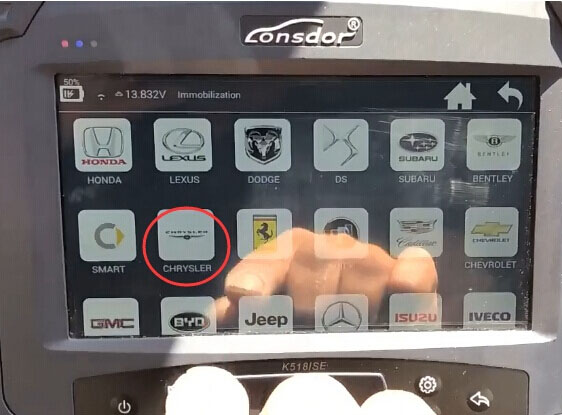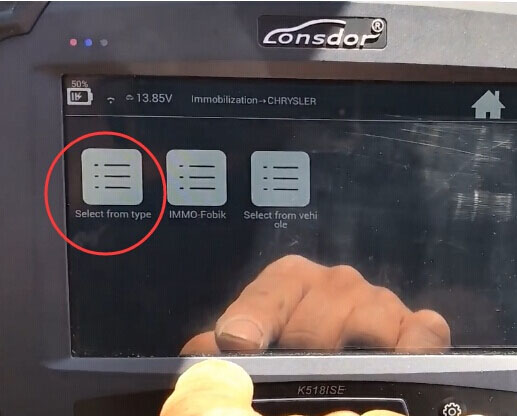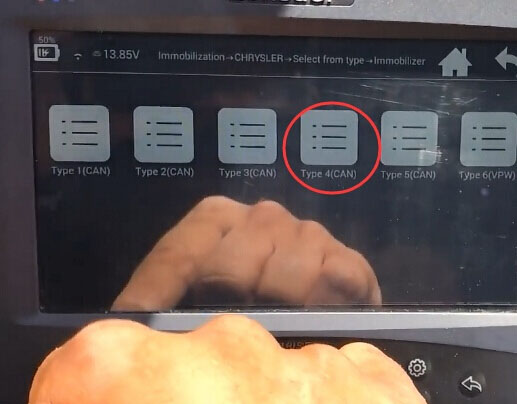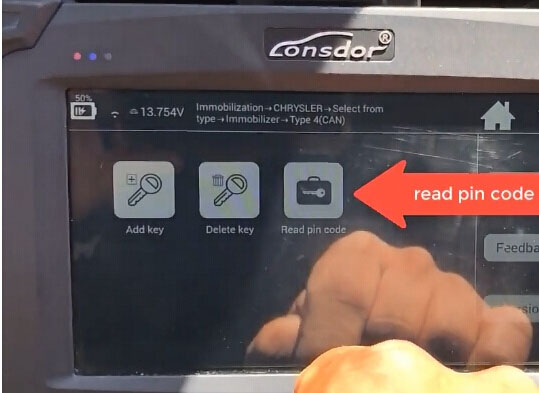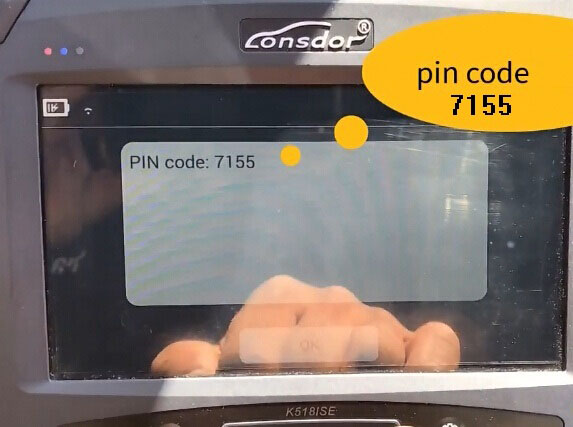 The vehicle coverage: Lonsdor K518S Chrysler (updated on 05.2019)
| | |
| --- | --- |
| Menu in Lonsdor | Functions(Mark in red = Payable) |
| CHRYSLER \Select from type\Immobilizer \Type 1(CAN) | Add new key,Add old key,Add remote,Detect key count,Delete key, |
| CHRYSLER \Select from type\Immobilizer \Type 2(CAN) | Read PIN code,Add new key,Delete key,Key count,Add old key, |
| CHRYSLER \Select from type\Immobilizer \Type 3(CAN) | Read pin code,Add key,Delete key,Key count, |
| CHRYSLER \Select from type\Immobilizer \Type 4(CAN) | Read pin code,Add key,Delete key,Key count, |
| CHRYSLER \Select from type\Smart key\Type 1(CAN) | Add smart key,Delete smart key,Read PIN code, |
| CHRYSLER \Select from type\Remote\Type 4(CAN) | Add remote,Read pin code, |
| CHRYSLER \Select from type\Remote\Type 3(VPW) | Add remote, |
| CHRYSLER \Select from type\Remote\Type 2(VPW) | Add remote, |
| CHRYSLER \Select from type\Smart key\Type 2(CAN) | Add smart key,Delete smart key,Key count,Read PIN code, |
| CHRYSLER \Select from type\Immobilizer \Type 6(VPW) | Add key,Delete key,Key count, |
| CHRYSLER\Select from type\IMMO-Fobik | Read PIN code,Synch smart key,Add key,Delete key, |
| CHRYSLER \Select from vehicle\Asia\300\2011-2014\Smart key | Add smart key,Delete smart key,Read PIN code, |
| CHRYSLER \Select from vehicle\Asia\Freemont\2011-\Smart key | Add smart key,Delete smart key,Read PIN code, |
| CHRYSLER \Select from vehicle\Asia\300M\1999-2000\Remote | Add remote, |
| CHRYSLER \Select from vehicle\Asia\Concorde\1998-2004\Remote | Add remote, |
| CHRYSLER \Select from vehicle\Asia\LHS\1999-2001\Remote | Add remote, |
| CHRYSLER \Select from vehicle\Asia\PT Cruiser\2001-2005\Remote | Add remote, |
| CHRYSLER \Select from vehicle\Asia\Sebring\2001-2006\Remote | Add remote, |
| CHRYSLER \Select from vehicle\Asia\Town and Country\2001-2003\Remote | Add remote, |
| | |
| --- | --- |
| CHRYSLER \Select from type\Remote\Type 1(VPW) | Add remote, |
| CHRYSLER\Select from type\Remote\Type 5 | Add remote, |
| CHRYSLER \Select from type\Remote\Type 6(VPW) | Add remote, |
| CHRYSLER \Select from type\Remote\Type 7(VPW) | Add remote, |
| CHRYSLER \Select from type\Remote\Type 8(VPW) | Add remote, |
| CHRYSLER \Select from vehicle\Asia\200\2015-\Smart key | Read PIN code,Add smart key,Delete smart key, |
| CHRYSLER \Select from type\Immobilizer \Type 7(VPW) | Add key,Delete key, |
| CHRYSLER \Select from type\Smart key\Type 3(CAN) | Add smart key,Delete smart key,Read PIN code, |
| CHRYSLER \Select from type\Smart key\Type 4(CAN) | Sync smart function, |
| CHRYSLER \Select from type\Smart key\Type 5(CAN) | Add smart key,Delete smart key,Read PIN code, |
| CHRYSLER \Select from vehicle\USA\200\2011-2014\Immobilizer | Read PIN code,Add new key,Delete key,Key count,Add old key, |
| CHRYSLER \Select from vehicle\USA\200\2015-\Smart key | Read PIN code,Add smart key,Delete smart key, |
| CHRYSLER \Select from vehicle\USA\300\2008\Immobilizer | Read pin code,Add key,Delete key,Key count, |
| CHRYSLER \Select from vehicle\USA\300\2009-2010\Immobilizer | Read pin code,Add key,Delete key,Key count, |
| CHRYSLER \Select from vehicle\USA\300\2011-2014\Immobilizer | Read PIN code,Add new key,Delete key,Key count,Add old key, |
| CHRYSLER \Select from vehicle\USA\300\2011-2014\Smart key | Add smart key,Delete smart key,Read PIN code, |
| CHRYSLER \Select from vehicle\USA\300C\2008\Immobilizer | Read pin code,Add key,Delete key,Key count, |
| CHRYSLER \Select from vehicle\USA\300C\2009-2010\Immobilizer | Read pin code,Add key,Delete key,Key count, |
| CHRYSLER \Select from vehicle\USA\300C\2011-2014\Immobilizer | Read PIN code,Add new key,Delete key,Key count,Add old key, |
| CHRYSLER \Select from vehicle\USA\300C\2011-2014\Smart key | Add smart key,Delete smart key,Read PIN code, |
| CHRYSLER \Select from vehicle\USA\300M\1999-2000\Immobilizer | Add key,Delete key,Key count, |
| CHRYSLER \Select from vehicle\USA\300M\1999-2000\Remote | Add remote, |
| CHRYSLER \Select from vehicle\USA\300M\2001-2004\Immobilizer | Add key,Delete key,Key count, |
| CHRYSLER \Select from vehicle\USA\300M\2001-2004\Remote | Add remote, |
| CHRYSLER \Select from vehicle\USA\Concorde\1998- | Add key,Delete key,Key count, |
| CHRYSLER \Select from vehicle\USA\Concorde\1998-2000\Remote | Add remote, |
| CHRYSLER \Select from vehicle\USA\Concorde\2001- | Add key,Delete key,Key count, |
| CHRYSLER \Select from vehicle\USA\Concorde\2001-2004\Remote | Add remote, |
| CHRYSLER \Select from vehicle\USA\LHS\1999-2001\Immobilizer | Add key,Delete key,Key count, |
| CHRYSLER \Select from vehicle\USA\LHS\1999-2001\Remote | Add remote, |
| CHRYSLER \Select from vehicle\USA\Neon\2000\Immobilizer | Add key,Delete key,Key count, |
| CHRYSLER \Select from vehicle\USA\Neon\2001-2005\Immobilizer | Add key,Delete key,Key count, |
| | |
| --- | --- |
| CHRYSLER \Select from vehicle\USA\Neon\2001-2005\Remote | Add remote, |
| CHRYSLER \Select from vehicle\USA\Pacifica\2004-2008\Immobilizer | Add key,Delete key, |
| CHRYSLER \Select from vehicle\USA\PT Cruiser\2001-2005\Immobilizer | Add key,Delete key,Key count, |
| CHRYSLER \Select from vehicle\USA\PT Cruiser\2001-2005\Remote | Add remote, |
| CHRYSLER \Select from vehicle\USA\PT Cruiser\2006-2010\Immobilizer | Read PIN code,Add new key,Delete key,Key count,Add old key, |
| CHRYSLER \Select from vehicle\USA\Sebring\2001-2006\Immobilizer | Add key,Delete key,Key count, |
| CHRYSLER \Select from vehicle\USA\Sebring\2001-2006\Remote | Add remote, |
| CHRYSLER \Select from vehicle\USA\Sebring\2007-2010\Immobilizer | Read PIN code,Add new key,Delete key,Key count,Add old key, |
| CHRYSLER\Select from vehicle\USA\Town and Country\2001-2003\Immobilizer | Add key,Delete key,Key count, |
| CHRYSLER\Select from vehicle\USA\Town and Country\2001-2003\Remote | Add remote, |
| CHRYSLER\Select from vehicle\USA\Town and Country\2004-2007\Immobilizer | Add key,Delete key, |
| CHRYSLER\Select from vehicle\USA\Town and Country\2008-2010\Immobilizer | Read pin code,Add key,Delete key,Key count, |
| CHRYSLER\Select from vehicle\USA\Town and Country\2011-2016\FOBIK | Read pin code,Add key,Delete key,Key count, |
| CHRYSLER\Select from vehicle\USA\Town and Country\2011-2016\Keyless-go(sync | Sync smart function, |
| CHRYSLER\Select from vehicle\USA\Town Country\2008\Immobilizer | Read PIN code,Add new key,Delete key,Key count,Add old key, |
| CHRYSLER \Select from vehicle\USA\Voyager\2001-2003\Immobilizer | Add key,Delete key,Key count, |
| CHRYSLER \Select from vehicle\USA\Voyager\2004-2005\Immobilizer | Add key,Delete key, |
| CHRYSLER \Select from vehicle\Asia\300\2008\Immobilizer | Read pin code,Add key,Delete key,Key count, |
| CHRYSLER \Select from vehicle\Asia\300\2009-2010\Immobilizer | Read pin code,Add key,Delete key,Key count, |
| CHRYSLER \Select from vehicle\Asia\300\2011-2014\Immobilizer | Read PIN code,Add new key,Delete key,Key count,Add old key, |
| CHRYSLER \Select from vehicle\Asia\300C\2008\Immobilizer | Read pin code,Add key,Delete key,Key count, |
| CHRYSLER \Select from vehicle\Asia\300C\2009-2010\Immobilizer | Read pin code,Add key,Delete key,Key count, |
| CHRYSLER \Select from vehicle\Asia\300C\2011-2014\Immobilizer | Read PIN code,Add new key,Delete key,Key count,Add old key, |
| CHRYSLER \Select from vehicle\Asia\300C\2011-2014\Smart key | Add smart key,Delete smart key,Read PIN code, |
| CHRYSLER \Select from vehicle\Asia\300M\1999-2000\Immobilizer | Add key,Delete key,Key count, |
| CHRYSLER \Select from vehicle\Asia\300M\2001-2004\Immobilizer | Add key,Delete key,Key count, |
| CHRYSLER \Select from vehicle\Asia\300M\2001-2004\Remote | Add remote, |
| CHRYSLER \Select from vehicle\Asia\Concorde\1998-2000\Immobilizer | Add key,Delete key,Key count, |
| CHRYSLER \Select from vehicle\Asia\Concorde\2001-2004\Immobilizer | Add key,Delete key,Key count, |
| CHRYSLER \Select from vehicle\Asia\Concorde\2001-2004\Remote | Add remote, |
| CHRYSLER \Select from vehicle\Asia\LHS\1999-2001\Immobilizer | Add key,Delete key,Key count, |
| CHRYSLER \Select from vehicle\Asia\Neon\2000\Immobilizer | Add key,Delete key,Key count, |
| | |
| --- | --- |
| CHRYSLER \Select from vehicle\Asia\Neon\2001-2005\Immobilizer | Add key,Delete key,Key count, |
| CHRYSLER \Select from vehicle\Asia\Neon\2001-2005\Remote | Add remote, |
| CHRYSLER \Select from vehicle\Asia\Pacifica\2004-2008\Immobilizer | Add key,Delete key, |
| CHRYSLER \Select from vehicle\Asia\PT Cruiser\2001-2005\Immobilizer | Add key,Delete key,Key count, |
| CHRYSLER \Select from vehicle\Asia\PT Cruiser\2006-2010\Immobilizer | Read PIN code,Add new key,Delete key,Key count,Add old key, |
| CHRYSLER \Select from vehicle\Asia\Sebring\2001-2006\Immobilizer | Add key,Delete key,Key count, |
| CHRYSLER \Select from vehicle\Asia\Sebring\2007-2010\Immobilizer | Read PIN code,Add new key,Delete key,Key count,Add old key, |
| CHRYSLER \Select from vehicle\Asia\Town and Country\2001-2003\Immobilizer | Add key,Delete key,Key count, |
| CHRYSLER \Select from vehicle\Asia\Town and Country\2004-2007\Immobilizer | Add key,Delete key, |
| CHRYSLER \Select from vehicle\Asia\Town and Country\2008-2010\Immobilizer | Read pin code,Add key,Delete key,Key count, |
| CHRYSLER \Select from vehicle\Asia\Town and Country\2011-2016\FOBIK | Read pin code,Add key,Delete key,Key count, |
| CHRYSLER \Select from vehicle\Asia\Town and Country\2011-2016\Keyless-go(sync | Sync smart function, |
| CHRYSLER \Select from vehicle\Asia\Voyager\2001-2003\Immobilizer | Add key,Delete key,Key count, |
| CHRYSLER \Select from vehicle\Asia\Voyager\2004-2005\Immobilizer | Add key,Delete key, |
| CHRYSLER \Select from vehicle\Asia\Grand Voyager\2004-2007\Immobilizer | Add key,Delete key, |
| CHRYSLER \Select from vehicle\Asia\Grand Voyager\2004-2007\Remote | Add remote, |
| CHRYSLER \Select from vehicle\Asia\Grand Voyager\2008-\Immobilizer | Read pin code,Add key,Delete key,Key count, |
| CHRYSLER \Select from vehicle\Asia\Grand Voyager\2008-\Keyless-go(sync smart | Sync smart function, |
| CHRYSLER \Select from vehicle\Europe\200\2011-2014\Immobilizer | Read PIN code,Add new key,Delete key,Key count,Add old key, |
| CHRYSLER \Select from vehicle\Europe\200\2015-\Smart key | Read PIN code,Add smart key,Delete smart key, |
| CHRYSLER \Select from vehicle\Europe\300\2008\Immobilizer | Read pin code,Add key,Delete key,Key count, |
| CHRYSLER \Select from vehicle\Europe\300\2009-2010\Immobilizer | Read pin code,Add key,Delete key,Key count, |
| CHRYSLER \Select from vehicle\Europe\300\2011-2014\Immobilizer | Read PIN code,Add new key,Delete key,Key count,Add old key, |
| CHRYSLER \Select from vehicle\Europe\300\2011-2014\Smart key | Add smart key,Delete smart key,Read PIN code, |
| CHRYSLER \Select from vehicle\Europe\300C\2008\Immobilizer | Read pin code,Add key,Delete key,Key count, |
| CHRYSLER \Select from vehicle\Europe\300C\2009-2010\Immobilizer | Read pin code,Add key,Delete key,Key count, |
| CHRYSLER \Select from vehicle\Europe\300C\2011-2014\Immobilizer | Read PIN code,Add new key,Delete key,Key count,Add old key, |
| CHRYSLER \Select from vehicle\Europe\300C\2011-2014\Smart key | Add smart key,Delete smart key,Read PIN code, |
| CHRYSLER \Select from vehicle\Europe\300M\1999-2000\Immobilizer | Add key,Delete key,Key count, |
| CHRYSLER \Select from vehicle\Europe\300M\1999-2000\Remote | Add remote, |
| CHRYSLER \Select from vehicle\Europe\300M\2001-2004\Immobilizer | Add key,Delete key,Key count, |
| CHRYSLER \Select from vehicle\Europe\300M\2001-2004\Remote | Add remote, |
| | |
| --- | --- |
| CHRYSLER \Select from vehicle\Europe\Concorde\1998- | Add key,Delete key,Key count, |
| CHRYSLER \Select from vehicle\Europe\Concorde\1998-2000\Remote | Add remote, |
| CHRYSLER \Select from vehicle\Europe\Concorde\2001- | Add key,Delete key,Key count, |
| CHRYSLER \Select from vehicle\Europe\Concorde\2001-2004\Remote | Add remote, |
| CHRYSLER \Select from vehicle\Europe\LHS\1999-2001\Immobilizer | Add key,Delete key,Key count, |
| CHRYSLER \Select from vehicle\Europe\LHS\1999-2001\Remote | Add remote, |
| CHRYSLER \Select from vehicle\Europe\Neon\2000\Immobilizer | Add key,Delete key,Key count, |
| CHRYSLER \Select from vehicle\Europe\Neon\2001-2005\Immobilizer | Add key,Delete key,Key count, |
| CHRYSLER \Select from vehicle\Europe\Neon\2001-2005\Remote | Add remote, |
| CHRYSLER \Select from vehicle\Europe\Pacifica\2004- | Add key,Delete key, |
| CHRYSLER \Select from vehicle\Europe\PT Cruiser\2001-2005\Immobilizer | Add key,Delete key,Key count, |
| CHRYSLER \Select from vehicle\Europe\PT Cruiser\2001-2005\Remote | Add remote, |
| CHRYSLER \Select from vehicle\Europe\PT Cruiser\2006-2010\Immobilizer | Read PIN code,Add new key,Delete key,Key count,Add old key, |
| CHRYSLER \Select from vehicle\Europe\Sebring\2001- | Add key,Delete key,Key count, |
| CHRYSLER \Select from vehicle\Europe\Sebring\2001-2006\Remote | Add remote, |
| CHRYSLER \Select from vehicle\Europe\Sebring\2007- | Read PIN code,Add new key,Delete key,Key count,Add old key, |
| CHRYSLER \Select from vehicle\Europe\Town and Country\2001-2003\Immobilizer | Add key,Delete key,Key count, |
| CHRYSLER \Select from vehicle\Europe\Town and Country\2001-2003\Remote | Add remote, |
| CHRYSLER \Select from vehicle\Europe\Town and Country\2004-2007\Immobilizer | Add key,Delete key, |
| CHRYSLER \Select from vehicle\Europe\Town and Country\2008-2010\Immobilizer | Read pin code,Add key,Delete key,Key count, |
| CHRYSLER \Select from vehicle\Europe\Town and Country\2011-2016\FOBIK | Read pin code,Add key,Delete key,Key count, |
| CHRYSLER \Select from vehicle\Europe\Town and Country\2011-2016\Keyless-go(sync | Sync smart function, |
| CHRYSLER \Select from vehicle\Europe\Voyager\2001- | Add key,Delete key,Key count, |
| CHRYSLER \Select from vehicle\Europe\Voyager\2004- | Add key,Delete key, |
| CHRYSLER \Select from vehicle\Europe\Grand Cherokee\2001- | Add key,Delete key,Key count, |
| CHRYSLER \Select from vehicle\Europe\Grand Cherokee\2001- | Add remote, |
| CHRYSLER \Select from vehicle\Europe\Grand Voyager\2004- | Add key,Delete key, |
| CHRYSLER \Select from vehicle\Europe\Grand Voyager\2004- | Add remote, |
| CHRYSLER \Select from vehicle\Europe\Grand Voyager\2008- | Read pin code,Add key,Delete key,Key count, |
| CHRYSLER \Select from vehicle\Europe\Grand Voyager\2008- | Sync smart function, |
| CHRYSLER \Select from vehicle\Europe\Voyager\2001-2003\Remote | Add remote, |
| CHRYSLER \Select from vehicle\South America\200\2011-2014\Immobilizer | Read PIN code,Add new key,Delete key,Key count,Add old key, |
| | |
| --- | --- |
| CHRYSLER \Select from vehicle\South America\200\2015-\Smart key | Read PIN code,Add smart key,Delete smart key, |
| CHRYSLER \Select from vehicle\South America\300\2008\Immobilizer | Read pin code,Add key,Delete key,Key count, |
| CHRYSLER \Select from vehicle\South America\300\2009-2010\Immobilizer | Read pin code,Add key,Delete key,Key count, |
| CHRYSLER \Select from vehicle\South America\300\2011-2014\Immobilizer | Read PIN code,Add new key,Delete key,Key count,Add old key, |
| CHRYSLER \Select from vehicle\South America\300\2011-2014\Smart key | Add smart key,Delete smart key,Read PIN code, |
| CHRYSLER \Select from vehicle\South America\300C\2008\Immobilizer | Read pin code,Add key,Delete key,Key count, |
| CHRYSLER \Select from vehicle\South America\300C\2009-2010\Immobilizer | Read pin code,Add key,Delete key,Key count, |
| CHRYSLER \Select from vehicle\South America\300C\2011-2014\Immobilizer | Read PIN code,Add new key,Delete key,Key count,Add old key, |
| CHRYSLER \Select from vehicle\South America\300C\2011-2014\Smart key | Add smart key,Delete smart key,Read PIN code, |
| CHRYSLER \Select from vehicle\South America\300M\1999-2000\Immobilizer | Add key,Delete key,Key count, |
| CHRYSLER \Select from vehicle\South America\300M\1999-2000\Remote | Add remote, |
| CHRYSLER \Select from vehicle\South America\300M\2001-2004\Immobilizer | Add key,Delete key,Key count, |
| CHRYSLER \Select from vehicle\South America\300M\2001-2004\Remote | Add remote, |
| CHRYSLER \Select from vehicle\South America\Concorde\1998-2000\Immobilizer | Add key,Delete key,Key count, |
| CHRYSLER \Select from vehicle\South America\Concorde\1998-2000\Remote | Add remote, |
| CHRYSLER \Select from vehicle\South America\Concorde\2001-2004\Immobilizer | Add key,Delete key,Key count, |
| CHRYSLER \Select from vehicle\South America\Concorde\2001-2004\Remote | Add remote, |
| CHRYSLER \Select from vehicle\South America\LHS\1999-2001\Immobilizer | Add key,Delete key,Key count, |
| CHRYSLER \Select from vehicle\South America\LHS\1999-2001\Remote | Add remote, |
| CHRYSLER \Select from vehicle\South America\Neon\2000\Immobilizer | Add key,Delete key,Key count, |
| CHRYSLER \Select from vehicle\South America\Neon\2001-2005\Immobilizer | Add key,Delete key,Key count, |
| CHRYSLER \Select from vehicle\South America\Neon\2001-2005\Remote | Add remote, |
| CHRYSLER \Select from vehicle\South America\Pacifica\2004-2008\Immobilizer | Add key,Delete key, |
| CHRYSLER \Select from vehicle\South America\PT Cruiser\2001-2005\Immobilizer | Add key,Delete key,Key count, |
| CHRYSLER \Select from vehicle\South America\PT Cruiser\2001-2005\Remote | Add remote, |
| CHRYSLER \Select from vehicle\South America\PT Cruiser\2006-2010\Immobilizer | Read PIN code,Add new key,Delete key,Key count,Add old key, |
| CHRYSLER \Select from vehicle\South America\Sebring\2001-2006\Immobilizer | Add key,Delete key,Key count, |
| CHRYSLER \Select from vehicle\South America\Sebring\2001-2006\Remote | Add remote, |
| CHRYSLER \Select from vehicle\South America\Sebring\2007-2010\Immobilizer | Read PIN code,Add new key,Delete key,Key count,Add old key, |
| CHRYSLER \Select from vehicle\South America\Town and Country\2001- | Add key,Delete key,Key count, |
| CHRYSLER \Select from vehicle\South America\Town and Country\2001- | Add remote, |
| CHRYSLER \Select from vehicle\South America\Town and Country\2004- | Add key,Delete key, |
CHRYSLER
| | |
| --- | --- |
| CHRYSLER \Select from vehicle\South America\Town and Country\2008- | Read pin code,Add key,Delete key,Key count, |
| CHRYSLER \Select from vehicle\South America\Town and Country\2011-2016\FOBIK | Read pin code,Add key,Delete key,Key count, |
| CHRYSLER \Select from vehicle\South America\Town and Country\2011- | Sync smart function, |
| CHRYSLER \Select from vehicle\South America\Voyager\2001-2003\Immobilizer | Add key,Delete key,Key count, |
| CHRYSLER \Select from vehicle\South America\Voyager\2004-2005\Immobilizer | Add key,Delete key, |
| CHRYSLER \Select from vehicle\South America\Grand Voyager\2004- | Add key,Delete key, |
| CHRYSLER \Select from vehicle\South America\Grand Voyager\2004-2007\Remote | Add remote, |
| CHRYSLER \Select from vehicle\South America\Grand Voyager\2008-\Immobilizer | Read pin code,Add key,Delete key,Key count, |
| CHRYSLER \Select from vehicle\South America\Grand Voyager\2008-\Keyless- | Sync smart function, |
| CHRYSLER \Select from vehicle\Middle East\200\2011-2014\Immobilizer | Read PIN code,Add new key,Delete key,Key count,Add old key, |
| CHRYSLER \Select from vehicle\Middle East\200\2015-\Smart key | Read PIN code,Add smart key,Delete smart key, |
| CHRYSLER \Select from vehicle\Middle East\300\2008\Immobilizer | Read pin code,Add key,Delete key,Key count, |
| CHRYSLER \Select from vehicle\Middle East\300\2009-2010\Immobilizer | Read pin code,Add key,Delete key,Key count, |
| CHRYSLER \Select from vehicle\Middle East\300\2011-2014\Immobilizer | Read PIN code,Add new key,Delete key,Key count,Add old key, |
| CHRYSLER \Select from vehicle\Middle East\300\2011-2014\Smart key | Add smart key,Delete smart key,Read PIN code, |
| CHRYSLER \Select from vehicle\Middle East\300C\2005-2006\Immobilizer | Add new key,Add old key,Add remote,Delete key,Key count,Read PIN code, |
| CHRYSLER \Select from vehicle\Middle East\300C\2008\Immobilizer | Read pin code,Add key,Delete key,Key count, |
| CHRYSLER \Select from vehicle\Middle East\300C\2009-2010\Immobilizer | Read pin code,Add key,Delete key,Key count, |
| CHRYSLER \Select from vehicle\Middle East\300C\2011-2014\Immobilizer | Read PIN code,Add new key,Delete key,Key count,Add old key, |
| CHRYSLER \Select from vehicle\Middle East\300C\2011-2014\Smart key | Add smart key,Delete smart key,Read PIN code, |
| CHRYSLER \Select from vehicle\Middle East\300M\1999-2000\Immobilizer | Add key,Delete key,Key count, |
| CHRYSLER \Select from vehicle\Middle East\300M\1999-2000\Remote | Add remote, |
| CHRYSLER \Select from vehicle\Middle East\300M\2001-2004\Immobilizer | Add key,Delete key,Key count, |
| CHRYSLER \Select from vehicle\Middle East\300M\2001-2004\Remote | Add remote, |
| CHRYSLER \Select from vehicle\Middle East\Concorde\1998-2000\Immobilizer | Add key,Delete key,Key count, |
| CHRYSLER \Select from vehicle\Middle East\Concorde\1998-2000\Remote | Add remote, |
| CHRYSLER \Select from vehicle\Middle East\Concorde\2001-2004\Immobilizer | Add key,Delete key,Key count, |
| CHRYSLER \Select from vehicle\Middle East\Concorde\2001-2004\Remote | Add remote, |
| CHRYSLER \Select from vehicle\Middle East\LHS\1999-2001\Immobilizer | Add key,Delete key,Key count, |
| CHRYSLER \Select from vehicle\Middle East\LHS\1999-2001\Remote | Add remote, |
| CHRYSLER \Select from vehicle\Middle East\Neon\2000\Immobilizer | Add key,Delete key,Key count, |
| CHRYSLER \Select from vehicle\Middle East\Neon\2001-2005\Immobilizer | Add key,Delete key,Key count, |
| | |
| --- | --- |
| CHRYSLER \Select from vehicle\Middle East\Neon\2001-2005\Remote | Add remote, |
| CHRYSLER \Select from vehicle\Middle East\Pacifica\2004-2008\Immobilizer | Add key,Delete key, |
| CHRYSLER \Select from vehicle\Middle East\PT Cruiser\2001-2005\Immobilizer | Add key,Delete key,Key count, |
| CHRYSLER \Select from vehicle\Middle East\PT Cruiser\2001-2005\Remote | Add remote, |
| CHRYSLER \Select from vehicle\Middle East\PT Cruiser\2006-2010\Immobilizer | Read PIN code,Add new key,Delete key,Key count,Add old key, |
| CHRYSLER \Select from vehicle\Middle East\Sebring\2001-2006\Immobilizer | Add key,Delete key,Key count, |
| CHRYSLER \Select from vehicle\Middle East\Sebring\2001-2006\Remote | Add remote, |
| CHRYSLER \Select from vehicle\Middle East\Sebring\2007-2010\Immobilizer | Read PIN code,Add new key,Delete key,Key count,Add old key, |
| CHRYSLER \Select from vehicle\Middle East\Town and Country\2001- | Add key,Delete key,Key count, |
| CHRYSLER \Select from vehicle\Middle East\Town and Country\2001-2003\Remote | Add remote, |
| CHRYSLER \Select from vehicle\Middle East\Town and Country\2004- | Add key,Delete key, |
| CHRYSLER \Select from vehicle\Middle East\Town and Country\2008- | Read pin code,Add key,Delete key,Key count, |
| CHRYSLER \Select from vehicle\Middle East\Town and Country\2011-2016\FOBIK | Read pin code,Add key,Delete key,Key count, |
| CHRYSLER \Select from vehicle\Middle East\Town and Country\2011-2016\Keyless- | Sync smart function, |
| CHRYSLER \Select from vehicle\Middle East\Voyager\2001-2003\Immobilizer | Add key,Delete key,Key count, |
| CHRYSLER \Select from vehicle\Middle East\Voyager\2004-2005\Immobilizer | Add key,Delete key, |
| CHRYSLER \Select from vehicle\Middle East\Grand Voyager\2004-2007\Immobilizer | Add key,Delete key, |
| CHRYSLER \Select from vehicle\Middle East\Grand Voyager\2004-2007\Remote | Add remote, |
| CHRYSLER \Select from vehicle\Middle East\Grand Voyager\2008-\Immobilizer | Read pin code,Add key,Delete key,Key count, |
| CHRYSLER \Select from vehicle\Middle East\Grand Voyager\2008-\Keyless-go(sync | Sync smart function, |
| CHRYSLER \Select from vehicle\Australia\200\2011-2014\Immobilizer | Read PIN code,Add new key,Delete key,Key count,Add old key, |
| CHRYSLER \Select from vehicle\Australia\200\2015-\Smart key | Read PIN code,Add smart key,Delete smart key, |
| CHRYSLER \Select from vehicle\Australia\300\2008\Immobilizer | Read pin code,Add key,Delete key,Key count, |
| CHRYSLER \Select from vehicle\Australia\300\2009-2010\Immobilizer | Read pin code,Add key,Delete key,Key count, |
| CHRYSLER \Select from vehicle\Australia\300\2011-2014\Immobilizer | Read PIN code,Add new key,Delete key,Key count,Add old key, |
| CHRYSLER \Select from vehicle\Australia\300\2011-2014\Smart key | Add smart key,Delete smart key,Read PIN code, |
| CHRYSLER \Select from vehicle\Australia\300C\2008\Immobilizer | Read pin code,Add key,Delete key,Key count, |
| CHRYSLER \Select from vehicle\Australia\300C\2009-2010\Immobilizer | Read pin code,Add key,Delete key,Key count, |
| CHRYSLER \Select from vehicle\Australia\300C\2011-2014\Immobilizer | Read PIN code,Add new key,Delete key,Key count,Add old key, |
| CHRYSLER \Select from vehicle\Australia\300C\2011-2014\Smart key | Add smart key,Delete smart key,Read PIN code, |
| CHRYSLER \Select from vehicle\Australia\300M\1999- | Add key,Delete key,Key count, |
| CHRYSLER \Select from vehicle\Australia\300M\1999-2000\Remote | Add remote, |
| | |
| --- | --- |
| CHRYSLER \Select from vehicle\Australia\300M\2001- | Add key,Delete key,Key count, |
| CHRYSLER \Select from vehicle\Australia\300M\2001-2004\Remote | Add remote, |
| CHRYSLER \Select from vehicle\Australia\Concorde\1998- | Add key,Delete key,Key count, |
| CHRYSLER \Select from vehicle\Australia\Concorde\1998- | Add remote, |
| CHRYSLER \Select from vehicle\Australia\Concorde\2001- | Add key,Delete key,Key count, |
| CHRYSLER \Select from vehicle\Australia\Concorde\2001- | Add remote, |
| CHRYSLER \Select from vehicle\Australia\LHS\1999-2001\Immobilizer | Add key,Delete key,Key count, |
| CHRYSLER \Select from vehicle\Australia\LHS\1999-2001\Remote | Add remote, |
| CHRYSLER \Select from vehicle\Australia\Neon\2000\Immobilizer | Add key,Delete key,Key count, |
| CHRYSLER \Select from vehicle\Australia\Neon\2001-2005\Immobilizer | Add key,Delete key,Key count, |
| CHRYSLER \Select from vehicle\Australia\Neon\2001-2005\Remote | Add remote, |
| CHRYSLER \Select from vehicle\Australia\Pacifica\2004- | Add key,Delete key, |
| CHRYSLER\Select from vehicle\Australia\PT Cruiser\2001-2005\Immobilizer | Add key,Delete key,Key count, |
| CHRYSLER\Select from vehicle\Australia\PT Cruiser\2001-2005\Remote | Add remote, |
| CHRYSLER\Select from vehicle\Australia\PT Cruiser\2006-2010\Immobilizer | Read PIN code,Add new key,Delete key,Key count,Add old key, |
| CHRYSLER \Select from vehicle\Australia\Sebring\2001- | Add key,Delete key,Key count, |
| CHRYSLER \Select from vehicle\Australia\Sebring\2001-2006\Remote | Add remote, |
| CHRYSLER \Select from vehicle\Australia\Sebring\2007- | Read PIN code,Add new key,Delete key,Key count,Add old key, |
| CHRYSLER \Select from vehicle\Australia\Town and Country\2001- | Add key,Delete key,Key count, |
| CHRYSLER \Select from vehicle\Australia\Town and Country\2001- | Add remote, |
| CHRYSLER \Select from vehicle\Australia\Town and Country\2004- | Add key,Delete key, |
| CHRYSLER \Select from vehicle\Australia\Town and Country\2008- | Read pin code,Add key,Delete key,Key count, |
| CHRYSLER \Select from vehicle\Australia\Town and Country\2011- | Read pin code,Add key,Delete key,Key count, |
| CHRYSLER \Select from vehicle\Australia\Town and Country\2011- | Sync smart function, |
| CHRYSLER \Select from vehicle\Australia\Voyager\2001- | Add key,Delete key,Key count, |
| CHRYSLER \Select from vehicle\Australia\Voyager\2004- | Add key,Delete key, |
| CHRYSLER \Select from vehicle\Australia\Grand Voyager\2004- | Add key,Delete key, |
| CHRYSLER \Select from vehicle\Australia\Grand Voyager\2004- | Add remote, |
| CHRYSLER \Select from vehicle\Australia\Grand Voyager\2008- | Read pin code,Add key,Delete key,Key count, |
| CHRYSLER \Select from vehicle\Australia\Grand Voyager\2008- | Sync smart function, |
| CHRYSLER \Select from vehicle\Africa\200\2011-2014\Immobilizer | Read PIN code,Add new key,Delete key,Key count,Add old key, |
| CHRYSLER \Select from vehicle\Africa\200\2015-\Smart key | Read PIN code,Add smart key,Delete smart key, |
| | |
| --- | --- |
| CHRYSLER \Select from vehicle\Africa\300\2008\Immobilizer | Read pin code,Add key,Delete key,Key count, |
| CHRYSLER \Select from vehicle\Africa\300\2009-2010\Immobilizer | Read pin code,Add key,Delete key,Key count, |
| CHRYSLER \Select from vehicle\Africa\300\2011-2014\Immobilizer | Read PIN code,Add new key,Delete key,Key count,Add old key, |
| CHRYSLER \Select from vehicle\Africa\300\2011-2014\Smart key | Add smart key,Delete smart key,Read PIN code, |
| CHRYSLER \Select from vehicle\Africa\300C\2008\Immobilizer | Read pin code,Add key,Delete key,Key count, |
| CHRYSLER \Select from vehicle\Africa\300C\2009-2010\Immobilizer | Read pin code,Add key,Delete key,Key count, |
| CHRYSLER \Select from vehicle\Africa\300C\2011-2014\Immobilizer | Read PIN code,Add new key,Delete key,Key count,Add old key, |
| CHRYSLER \Select from vehicle\Africa\300C\2011-2014\Smart key | Add smart key,Delete smart key,Read PIN code, |
| CHRYSLER \Select from vehicle\Africa\300M\1999-2000\Immobilizer | Add key,Delete key,Key count, |
| CHRYSLER \Select from vehicle\Africa\300M\1999-2000\Remote | Add remote, |
| CHRYSLER \Select from vehicle\Africa\300M\2001-2004\Immobilizer | Add key,Delete key,Key count, |
| CHRYSLER \Select from vehicle\Africa\300M\2001-2004\Remote | Add remote, |
| CHRYSLER \Select from vehicle\Africa\Concorde\1998- | Add key,Delete key,Key count, |
| CHRYSLER \Select from vehicle\Africa\Concorde\1998-2000\Remote | Add remote, |
| CHRYSLER \Select from vehicle\Africa\Concorde\2001- | Add key,Delete key,Key count, |
| CHRYSLER \Select from vehicle\Africa\Concorde\2001-2004\Remote | Add remote, |
| CHRYSLER \Select from vehicle\Africa\LHS\1999-2001\Immobilizer | Add key,Delete key,Key count, |
| CHRYSLER \Select from vehicle\Africa\LHS\1999-2001\Remote | Add remote, |
| CHRYSLER \Select from vehicle\Africa\Neon\2000\Immobilizer | Add key,Delete key,Key count, |
| CHRYSLER \Select from vehicle\Africa\Neon\2001-2005\Immobilizer | Add key,Delete key,Key count, |
| CHRYSLER \Select from vehicle\Africa\Neon\2001-2005\Remote | Add remote, |
| CHRYSLER \Select from vehicle\Africa\Pacifica\2004-2008\Immobilizer | Add key,Delete key, |
| CHRYSLER \Select from vehicle\Africa\PT Cruiser\2001-2005\Immobilizer | Add key,Delete key,Key count, |
| CHRYSLER \Select from vehicle\Africa\PT Cruiser\2001-2005\Remote | Add remote, |
| CHRYSLER \Select from vehicle\Africa\PT Cruiser\2006-2010\Immobilizer | Read PIN code,Add new key,Delete key,Key count,Add old key, |
| CHRYSLER \Select from vehicle\Africa\Sebring\2001-2006\Immobilizer | Add key,Delete key,Key count, |
| CHRYSLER \Select from vehicle\Africa\Sebring\2001-2006\Remote | Add remote, |
| CHRYSLER \Select from vehicle\Africa\Sebring\2007-2010\Immobilizer | Read PIN code,Add new key,Delete key,Key count,Add old key, |
| CHRYSLER \Select from vehicle\Africa\Town and Country\2001-2003\Immobilizer | Add key,Delete key,Key count, |
| CHRYSLER \Select from vehicle\Africa\Town and Country\2001-2003\Remote | Add remote, |
| CHRYSLER \Select from vehicle\Africa\Town and Country\2004-2007\Immobilizer | Add key,Delete key, |
| CHRYSLER \Select from vehicle\Africa\Town and Country\2008-2010\Immobilizer | Read pin code,Add key,Delete key,Key count, |
| | |
| --- | --- |
| CHRYSLER \Select from vehicle\Africa\Town and Country\2011-2016\FOBIK | Read pin code,Add key,Delete key,Key count, |
| CHRYSLER \Select from vehicle\Africa\Town and Country\2011-2016\Keyless-go(sync | Sync smart function, |
| CHRYSLER \Select from vehicle\Africa\Voyager\2001-2003\Immobilizer | Add key,Delete key,Key count, |
| CHRYSLER \Select from vehicle\Africa\Voyager\2004-2005\Immobilizer | Add key,Delete key, |
| CHRYSLER\Select from vehicle\Africa\Grand Voyager\2004-2007\Immobilizer | Add key,Delete key, |
| CHRYSLER\Select from vehicle\Africa\Grand Voyager\2004-2007\Remote | Add remote, |
| CHRYSLER\Select from vehicle\Africa\Grand Voyager\2008-\Immobilizer | Read pin code,Add key,Delete key,Key count, |
| CHRYSLER\Select from vehicle\Africa\Grand Voyager\2008-\Keyless-go(sync smart | Sync smart function, |
| CHRYSLER \Select from vehicle\USA\Freemont\2011-\Smart key | Add smart key,Delete smart key,Read PIN code, |
| CHRYSLER \Select from vehicle\USA\300\2014-\Smart key | Add smart key,Delete smart key,Key count,Read PIN code, |
| CHRYSLER \Select from vehicle\USA\300C\2014-\Smart key | Add smart key,Delete smart key,Key count,Read PIN code, |
| CHRYSLER \Select from vehicle\Asia\300\2014-\Smart key | Add smart key,Delete smart key,Key count,Read PIN code, |
| CHRYSLER \Select from vehicle\Asia\300C\2014-\Smart key | Add smart key,Delete smart key,Key count,Read PIN code, |
| CHRYSLER \Select from vehicle\Europe\300\2014-\Smart key | Add smart key,Delete smart key,Key count,Read PIN code, |
| CHRYSLER \Select from vehicle\Europe\300C\2014-\Smart key | Add smart key,Delete smart key,Key count,Read PIN code, |
| CHRYSLER \Select from vehicle\Middle East\300\2014-\Smart key | Add smart key,Delete smart key,Key count,Read PIN code, |
| CHRYSLER \Select from vehicle\Middle East\300C\2014-\Smart key | Add smart key,Delete smart key,Key count,Read PIN code, |
| CHRYSLER \Select from vehicle\Australia\300\2014-\Smart key | Add smart key,Delete smart key,Key count,Read PIN code, |
| CHRYSLER \Select from vehicle\Australia\300C\2014-\Smart key | Add smart key,Delete smart key,Key count,Read PIN code, |
| CHRYSLER \Select from vehicle\South America\300\2014-\Smart key | Add smart key,Delete smart key,Key count,Read PIN code, |
| CHRYSLER \Select from vehicle\South America\300C\2014-\Smart key | Add smart key,Delete smart key,Key count,Read PIN code, |
| CHRYSLER \Select from vehicle\Africa\300\2014-\Smart key | Add smart key,Delete smart key,Key count,Read PIN code, |
| CHRYSLER \Select from vehicle\Africa\300C\2014-\Smart key | Add smart key,Delete smart key,Key count,Read PIN code, |
| CHRYSLER \Select from type\Immobilizer \Type 9(CAN) | Key count,Program key,Delete key,Program remote, |
| CHRYSLER \Select from vehicle\USA\Cirrus\2007-\Immobilizer | Key count,Program key,Delete key,Program remote, |
| CHRYSLER \Select from vehicle\USA\Neon\2005-\Immobilizer | Key count,Program key,Delete key,Program remote, |
| CHRYSLER \Select from vehicle\Asia\Cirrus\2007-\Immobilizer | Key count,Program key,Delete key,Program remote, |
| CHRYSLER \Select from vehicle\Asia\Neon\2005-\Immobilizer | Key count,Program key,Delete key,Program remote, |
| CHRYSLER \Select from vehicle\Europe\Cirrus\2007-\Immobilizer | Key count,Program key,Delete key,Program remote, |
| CHRYSLER \Select from vehicle\Europe\Neon\2005-\Immobilizer | Key count,Program key,Delete key,Program remote, |
| CHRYSLER \Select from vehicle\South America\Cirrus\2007-\Immobilizer | Key count,Program key,Delete key,Program remote, |
| CHRYSLER \Select from vehicle\South America\Neon\2005-\Immobilizer | Key count,Program key,Delete key,Program remote, |
| | |
| --- | --- |
| CHRYSLER \Select from vehicle\Australia\Cirrus\2007-\Immobilizer | Key count,Program key,Delete key,Program remote, |
| CHRYSLER \Select from vehicle\Australia\Neon\2005-\Immobilizer | Key count,Program key,Delete key,Program remote, |
| CHRYSLER \Select from vehicle\Middle East\Cirrus\2007-\Immobilizer | Key count,Program key,Delete key,Program remote, |
| CHRYSLER \Select from vehicle\Middle East\Neon\2005-\Immobilizer | Key count,Program key,Delete key,Program remote, |
| CHRYSLER \Select from vehicle\Africa\Cirrus\2007-\Immobilizer | Key count,Program key,Delete key,Program remote, |
| CHRYSLER \Select from vehicle\Africa\Neon\2005-\Immobilizer | Key count,Program key,Delete key,Program remote, |
| CHRYSLER \Select from vehicle\Asia\200\2011-2014\Immobilizer | Read PIN code,Add new key,Delete key,Key count,Add old key, |
| CHRYSLER \Select from type\Smart key\Type 6(CAN) | Read PIN code,Add key,Delete key, |
| CHRYSLER \Select from type\Smart key\Type 7(CAN) | Read PIN code,Add smart key,Delete smart key, |
| CHRYSLER \Select from type\Smart key\Type 8(CAN)\Keyless-go | Read pin code,Add key,Delete key, |
| CHRYSLER \Select from type\Smart key\Type 8(CAN)\Mechanical key | Read pin code,Add key,Delete key, |