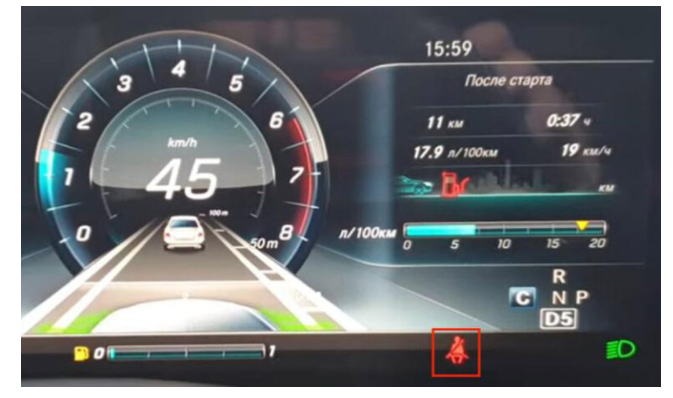 In this article, we'll show you how to disable Mercedes seat belt warning light via OEM software DTS Monaco. This guide will also apply to W213, W205, W222, W217, W238, W257, etc.
Look, the seat belt warning light is on, but sometime like when we are parking or driving at short distances, we don't have to wear it.
Before we start, don't forget to connect a Mercedes VCI (MB Star SD Connect C4, C5, VXDIAG C6, Super MB Pro M6, etc.) to your vehicle.
Run "DTS Monaco" and select "IC213".
The option for other models:
IC213 – Mercedes W205 (C) facelift, W217 (CL) facelift, W222 (S) facelift, W213 (E), W238
(CLS), X253 (GLC) facelift, W257 (E Cabrio), W463 (G)
IC222 – Mercedes W205 (C) preface, W217 (S Cabrio) preface, W253 (GLC) preface,
V222 (Maybach), C190 (AMG GT), W447 (V)
IC204 – Mercedes W212 (E), W204 (C), X204 (GLK), W197 (SLS), W218 (CLS)
IC177 – Mercedes W177 (A), W118 (CLA), W167 (GLE), W213 (E) facelift
IC172 -Mercedes W463 (G), W166 (GLS/ML), W292 (ML), W176 (A), W246 (B), W156 (GLA),
W117 (CLA), R231 (SL), R172 (SLK), X204 (GLK)
Now we enter the main menu.
Connect to ECU.
Before encoding, save the file first.
Select "[007] Country coding Write" on Domain.
Find "Gurtwarnug [Belt_Warning_Type]" (Seatbelt [Belt_Warning_Type]), change "nach USA NCAP" (to USA NCAP) into "entsprechend Konfiguration" (Relevant Configuration), and click on "Do Coding" to save it.
Go to "Diagnostic Services" for "HardReset Reset".
Click on "Transmit" to finish encoding.
See, no disturbing notification anymore.