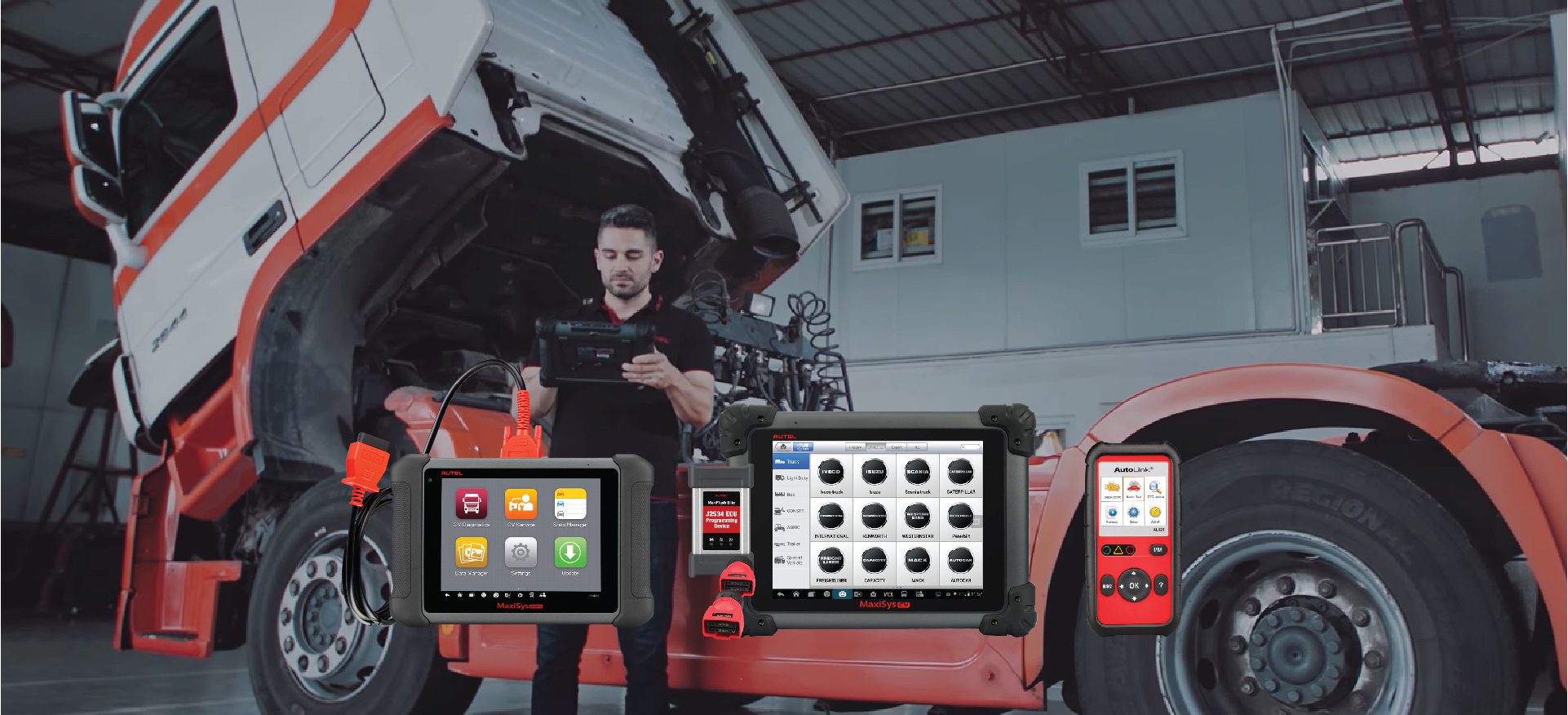 Right alongside your wrenches, drills, and jacks is your diagnostic tool. You can't read fault codes, scan your fleet, or keep up with regular maintenance without it. For over 20 years, diagnostic scan tools have been a staple in heavy-duty repair shops. As the heavy truck industry continues to advance in technology and related diagnostic software, it's essential that your technicians stay up to date to run a successful repair shop.
In recent years, technicians are looking more towards diagnostic tools with "all-makes" capabilities to quickly get the job done. Two of the most well-known names to emerge in this industry is Autel and Noregon. Agile Truck Tools is proud to be a master distributor of Autel, and here is how we stack up against the competition.
Coverage
Autel has designed state-of-the-art software that covers 126 brands of trucks and components with thousands of bi-directional tests and parameter resets. The Autel MaxiSYS MS908CV is now one of the most sought-after diagnostic tools in the industry. Autel coverage spans across North American, Asian, and European models for class 3 through class 8 trucks. Unfortunately, we cannot say the same for JPRO's limited coverage of just 42 vehicle brands of coverage and a few hundred bi-directional tests and parameter resets.*
JPRO is designed to be complementary to OEM software on the same diagnostic platform. JPRO still requires your shop to invest in multiple and expensive OEM software applications that are also difficult to maintain.
Regular Updates
We understand how important it is to have the right software at your fingertips. Without it, you cannot maintain your fleet or keep up with changes made by manufacturers. One of most significant differences between Autel and Noregon's JPRO tools is that Autel sends out updates regularly while JPRO only receives a limited amount of updates per year. This may not seem like a big deal, but it can affect your shop's success with minimal coverage and functionality upgrades. Autel is constantly updating coverage and functionality to ensure that your investment keeps up with the maintenance and repair requirements of the late model trucks.
Warranty
It is not uncommon in a repair shop for diagnostic tools to take a beating. Fortunately, you can rest easy when you go with Autel knowing that your hardware is protected by a lifetime warranty. This also includes the replacement of the battery. You won't get the same coverage with JPRO tools. Instead, you get a limited one-year warranty on your cables and adapters, and you will have to replace your diagnostic computer every few years. From an ROI standpoint, there is no comparison between the Autel diagnostic tool and a JPRO kit with computer.
Price
When you compare the pricing between Autel and JPRO, it's not hard to see that Autel far outweighs JPRO in terms of cost. Not only is the initial purchase cheaper, but so are the annual renewals to keep you in warranty and covered with software updates. Additionally, you'll notice a 44% cost savings over a 5-year run rate. Regardless of your renewal status, you never have to worry about the software shutting off, and the Autel Total Care package can be renewed after a lapse in updates and warranty coverage at any time. Autel literally costs thousands less over the life of the tool!
Invest Today!
Diagnostic tools are an investment for your fleet and repair shop, which means you expect an excellent ROI and exceptional quality. These tools will be used daily by your entire team, so you must find comprehensive scan tools that are easy to use and have expanded coverages. You get just that when you go with Autel from Agile Truck Tools.
When you compare JPRO to Autel, the MaxiSYS MS908CV wins hands down:
**Better coverage
**Better functionality
**Software never turns off
**Lifetime warranty on hardware
**Lower cost
If you need JPRO Professional or Autel Scanner, please click on our link https://www.autonumen.com.