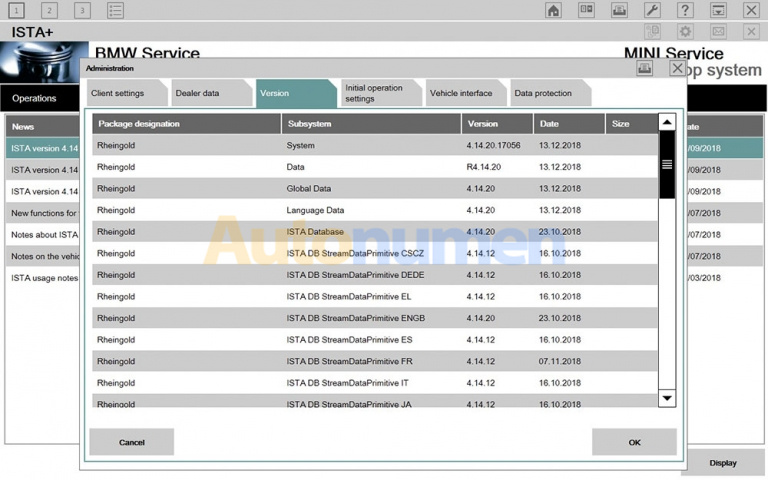 ICOM NEXT is professional diagnostic tool for all BMW E/F/G series cars, MINI, Rolls-Royce BMW-Model.  And it supports programming offline directly.  BMW ICOM software works with ICOM NEXT well, also ICOM A2.
Autonumen.COM here provide BMW Win7 ISTA-D/P software download and installation guide.
1. BMW ICOM Software Overview:
Software Version: V2018.12
BMW Diagnosis ISTA-D: 4.12.12
BMW Programming ISTA-P: 3.65.2.0
Operation System: Win7 32bit i5 4G RAM or above
2. ICOM Next A+B+C Diagnosis Software V2018.12 List:
BMW ICOM NEXT is latest generation after service tool for BMW.
These brief instructions describe the basic functions of the AIR application (Aftersales Information Research) in Service.
For the Diagnostic, it use IPSI (Rheingold) and also ISPI Next for Coding Programming functions.
ISTA/D – Integrated Service Technical Application Diagnostic.
ISTA/D is used to diagnose BMW all series and models from all systems.
ISTA/P – Integrated Service Technical Application/Programming.
ISTA/P is used to process all coded, programmed and enable-dependent control modules in B-MW Group vehicles.
Rheingold – Diagnostic and repair guide, including Diagrams and disassembly Figure.
KSD – B-MW KSD (Kaufmännische Service Daten.
i.e. Commercial Service Data) is a collection of invaluable data for determining labor hours, inspection sheets and general service methods.   There's also information about wheels and rims for the various models.
EasyConnect – Used to Configure the Environment Parameter of Engineer Software for E series.  It can activate or release ICOM Port.
IToolRadar – Used to recognize ICOM, activate or release ICOM Port.
ETK – Accessories Catalog.
EDIABAS Tool32 – Engineer Software for E series, able to run directly.
INPA – Engineer Software for E series, for diagnosis.
NCS Expert Tool – Engineer Software for E series, for coding.
WinKFP – Engineer Software for E series, for programming.
E-sys – Engineer Software for F series.   (Available for programming and coding).
BMW Standard tool
Coding Database
Coding Tool
3. Software Free Download
Rheingold 4.12.12 Standalone / SDP 4.12.12 / ISTA-P 3.65.2.0   (SQLiteDBs EN,DE,RU,OTHER).
https://mega.nz/#!BaBkBawb!_buiiV3KAJ70_ds8mTEL_PBdsRKv3HiKoImaGo4hnQ0
Of course, you can find many other download links in some BMW forums as below.
https://www.bimmerfest.com/
http://www.bimmerpost.com/
http://www.bimmerforums.com/
https://www.BMWcca.org/
http://www.bimmerboard.com/
…
4. BMW ICOM software win7 installation guide
Usually we main install software with win7 32 bit system, and all test ok!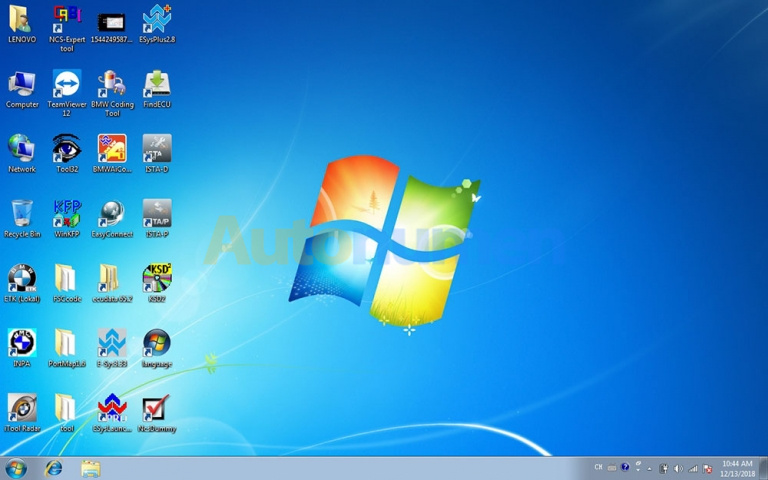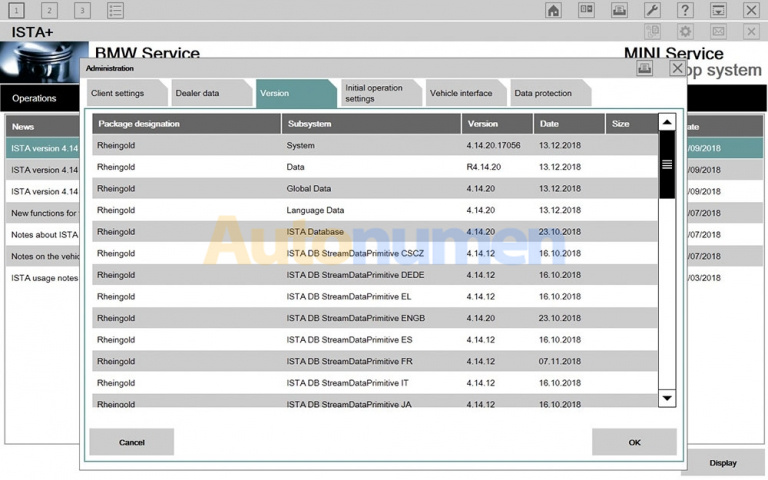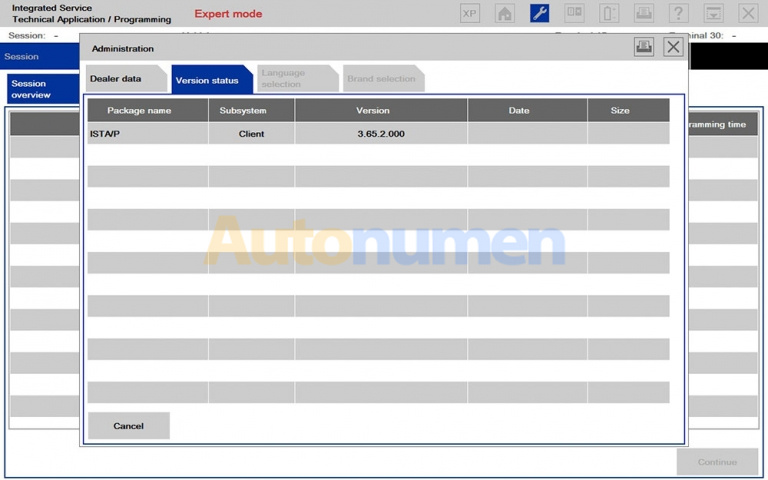 Step 1: ISTA-D Diagnosis software
Open software
Then double click RHEINGOLD icon to change Full Screen.
Go to Operations, then Read Out Vehicle Data, press Complete identification.
Then follow ISTA prompt to connect the ICOM emulator with vehicle.
When it shows ICOM, then you can click lower right corner Connect to start diagnosis.
(If the Status shows firmware, you see update ICOM firmware first, see instruction in Part 5).
Step 2: ISTA-P Programming software
Open ISTA-P software
Then click "Reset Settings" tab then close.
Open it again
Then select ISTA-P language and then Resolution.
Check the resolution on desktop.   It is the same as ISTA-P resolution you just chose.
Select vehicle type, BMW, MINI, BMW Motorcycle or Rolls Royce.
Then it will select ISTA-P server automatically.
Step 3: ETK
Open ETK software
Click "Extras" tab>> "Settings" to change language and other settings.
KSD
Then click "Settings" to change language and others.
Step 4: Engineer Tools
Engineering & programming software INPA, NCS-Expert, WInKFP etc.
Before using the engineer tools, must set/configure ICOM settings.
1) Open Engineer Tools, Itool Radar, select first line option.   Then click "Reserve" button on the right.
ICOM Device status will be changed to Reserved.
2) Open EasyConnect, do following settings.
The IP address must be set to correct 169.254.92.38.   Then click "CHECK" button.
Configuration is done.   And then  you can start using engineering software (INPA, WinKFP, etc.)
If you need to update the BMW ICOM NEXT firmware, please refer to this blog: BMW ICOM NEXT V1.4.0 Firmware Free Download and Update
Finally, vxdas also offer others hot sell car diagnostic software free resource, pls click:
Software Free Download