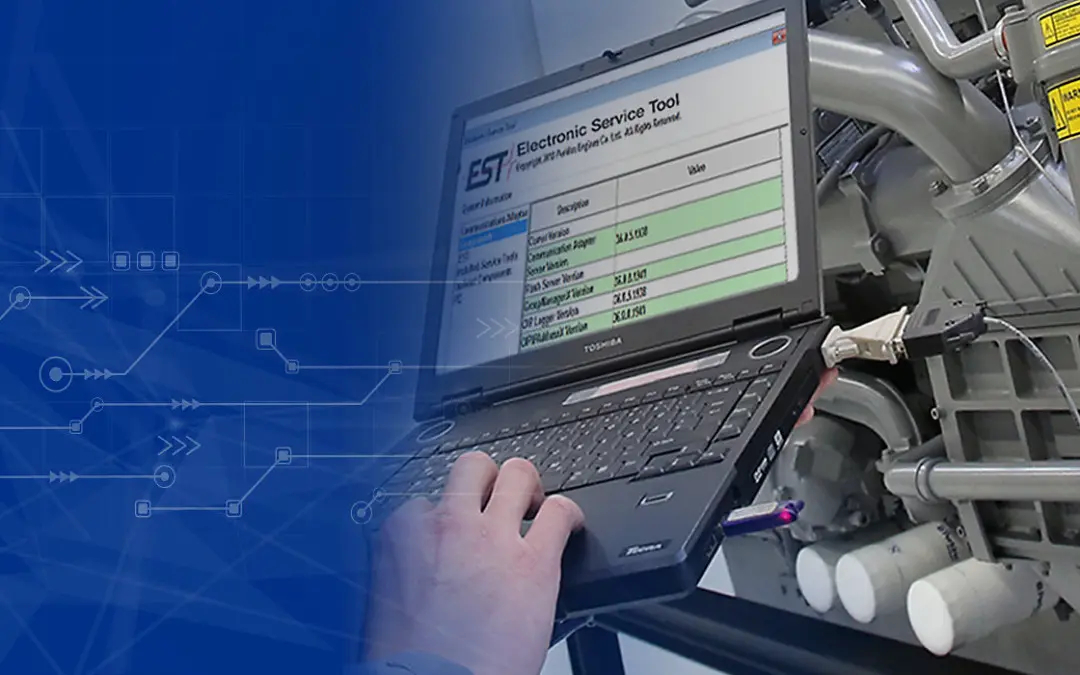 Perkins EST 2023A is a powerful electronic service tool designed for diagnosing Perkins Engines & Generators. This user-friendly software runs on a personal computer (PC) under Microsoft Windows, connecting to the Electronic Control Modules (ECMs) through a communication data link. With a wide range of features and functionalities, Perkins EST 2023A enables users to diagnose problems, configure products, and analyze data effectively.
Features and Functions:
1. Compatible with Multiple Languages and Operating Systems:
– Language support includes English, Chinese, Danish, French, German, Italian, Portuguese, and Spanish.
– Supported operating systems include Windows XP, Windows 7, Windows 8, and Windows 10.
How To Install PERKINS EST 2023A Software
2. Comprehensive Diagnostic Capabilities:
– View active and logged diagnostics to identify existing and potential issues.
– Monitor events and irregularities recorded by the ECMs for troubleshooting.
– Simultaneously view the status of various parameters like temperatures and pressures.
– Record and log performance data for in-depth analysis.
– Graph a group of status parameters for better visualization.
– View the current configuration of an ECM and make necessary changes.
– Perform diagnostic tests and calibrations.
– Generate reports and print diagnostic results.
3. Advanced Functionality:
– Override Powerwizard level three passwords for enhanced access.
– Configure and change system parameters to optimize performance.
– Display, graph, and record logs of parameter status for detailed analysis.
– Clear active and logged diagnostic codes to ensure accurate troubleshooting.
– View and change the current Configuration File or Base level Flash File.
– Upload, download, and save configuration files for easy management.
– Access a list of irregularities logged by the ECM for thorough evaluation.
– Perform diagnostic tests and calibrations for precise adjustments.
– Print reports and diagnostic results for documentation purposes.
Benefits and Applications:
1. Key Replacement for Perkins Engines:
– Facilitates troubleshooting electronic systems in Perkins 2300/2800 series engines.
– Streamlines the process of replacing or upgrading the FG Wilson PowerWizard control panel module.
– Enables configuration of the empty module using Perkins EST 2020A and the database file.
2. Compatible with FG Wilson Control Systems:
– Supports the new standard in FG Wilson control systems, enhancing control panel functionality.
– Allows dealers to upload, download, and save client configurations effortlessly.
– Bypasses PowerWizard third-level passwords for seamless access.
3. Firmware Updates and Language Support:
– Updates firmware version of PowerWizard for improved performance.
– Enables dealers to install additional language files as required.
System Requirements and Updates:
– Perkins EST 2023A requires a laptop computer with a USB or serial port and Windows 2000 or XP.
– The software's performance depends on the CPU, with slower processors affecting the program's speed.
Recent Updates:
1. WinFlash Screen Changes:
– The WinFlash screen has been updated for improved usability.
2. New Help System:
– The help system has been updated with new content to provide information and instructions on new features.
3. Snapshot Updates:
– The Snapshot feature now allows users to compare data points and customize graph colors.
4. Time Mode Display Options for Data Log:
– The Data Log screen now includes a "Time Mode" button, enabling users to toggle between PC Clock Time and elapsed time during data logging.
5. Trainer Enhancements:
– The coach applications now include the WinFlash application.
Perkins EST 2023A is a comprehensive diagnostic software that empowers users to diagnose, configure, and analyze Perkins Engines & Generators' performance. With its extensive features, language support, and compatibility with various operating systems, Perkins EST 2023A is an essential tool for effective troubleshooting and optimization of Perkins products. Keep up with the latest updates to ensure you benefit from the software's advanced functionalities and improved usability.