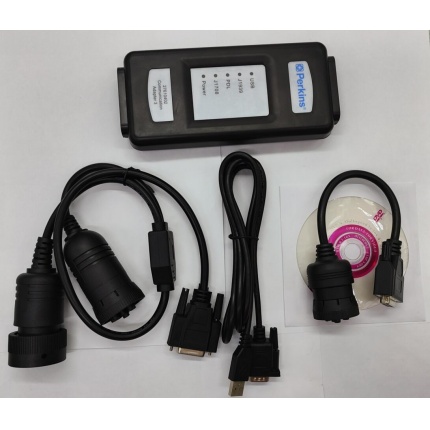 What's Perkins EST – it?
Perkins Electronic Service Tool (EST) is software that really helps chip tuning professionals and service shops. This makes the ECU remapping process fully possible and effective. The Perkins EST tool provides essential engine analysis on the overall performance, condition, performance, etc. of Perkins engines. The Perkins EST diagnostic tool allows tuning professionals to read active and past trouble codes and logged events. In addition, they can create product status reports to achieve perfect engine performance. The Perkins EST solution includes the Perkins EST software and the hardware Perkins EST diagnostic adapter. They allow tuning specialists to communicate with Perkins engines and control panels.
Perkins EST Function:
Diagnose issues with your Perkins-powered equipment. The electronic service tool helps you troubleshoot problems in order to fix equipment faster. With EST software, accessories and licensing, you can keep your business running without the need for a third-party provider.
1. Engine diagnostics at your convenience
Identify fault codes, record events like low oil pressure, perform diagnostic tests like cylinder cut outs and download engine product status reports.
2. Crucial parts delivered to you
To use the tool, you need a communication adaptor. This links the EST software on your service laptop to the J1939 connector on your machine. Obtain licensing for these products from your local Perkins distributor.
3. Essential tools available when and where you need them
The EST software is available for download immediately upon your registration to the Perkins Rental Support Programme.
Perkins diagnostic software features:
* Access to the ECU on all electronically controlled Perkins engines;
* Dynamic diagnostic testing and calibrations;
* Find active and previous fault codes and events, such as voltage too high/low, low oil pressure, high coolant temperature, etc.;
* View and clear active and logged diagnostic codes and events;
* View a list of irregularities logged by the ECM (engine control module)
* View or rewrite the current Configuration File or Base level Flash File;
* Configure and/or change system stock parameters;
* Upload, download, and save configuration files;
* Histogram of engine operations, such as load factor, engine rpm vs time, load vs time;
* Print reports and diagnostic results;
What-are-the-advantages-of-chip-tuning-with-Perkins-EST-3
What are the advantages of chip tuning with Perkins EST?
* The troubleshooting of Perkins electronic engines process becomes far easier with Perkins EST software.
* Perkins EST is essential when it comes to replacing an ECM on Perkins electronic engines because they can be configured only with the electronic service tool.
* The diagnostic tool enables tuning experts to download, upload and save customer's configuration files.
* Also, it makes the update of software versions of control panels possible.

Which Perkins engine can we remap?
Perkins industrial diesel engines models:
* Perkins industrial 2400 Series engines
* Perkins Syncro engines
* Perkins industrial 1100 Series engines
* Perkins industrial 1700 Series engines
* Perkins industrial 2800 Series engines
* Perkins industrial 400 Series engines
* Perkins industrial 2200 Series engines
* Perkins industrial 2500 Series engines
* Perkins industrial 1200 Series engines
Perkins industrial open power unit models:
* Perkins industrial 1100 Series
* Perkins industrial 1200 Series
* Perkins industrial 400 Series
Perkins marine engines models:
* Perkins Comercial M92B (64 kW, 308 Nm)
* Perkins Pleasure M92B (64 kW, 308 Nm)
* Perkins Auxiliary 4.4GM (42.7 kW, 286.5 Nm)
* Perkins Auxiliary 4.4TGM (56.4 kW, 371 Nm)
* Perkins Auxiliary 4.4TW2GM (93.6 kW, 623 Nm)
* Perkins Auxiliary 4.4TWGM (75 kW, 483 Nm)
* Perkins Auxiliary 415GM (12.375 kW, 85.9 Nm)
* Perkins Auxiliary 422GM (18.4 kW, 131 Nm)
* Perkins Auxiliary 422TGM (24.5 kW, 176.6 Nm)
* Perkins Auxiliary E70-TAG (109 kW, 1145.9 Nm)
Perkins electric engine models:
* Perkins 1100 Series electric engine models
* Perkins 1700 Series electric engine models
* Perkins 2800 Series electric engine models
* Perkins 400 Series electric engine models
* Perkins 2200 Series electric engine models
* Perkins 2500 Series electric engine models
* Perkins 1200 Series electric engine models