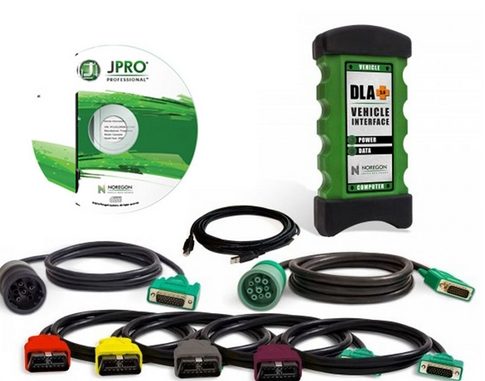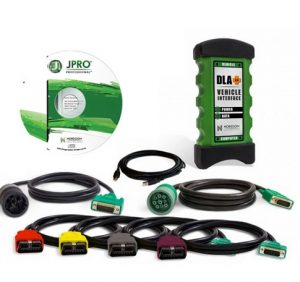 1.What does JPRO do?
JPRO empowers diesel technicians to diagnose and repair all makes, models, and components. JPRO reduces a technician's dependency on OEM software by offering industry-leading bi-directional controls, including DPF regens, cylinder cutouts, parameter changes, and much more.
2.What trucks will JPRO work on?
For commercial vehicles, JPRO is an all makes, models, and components solutions. For detailed information, check out our coverage chart.
3.Can JPRO adjust parameters such as road speeds or idle shutdown settings?
Yes! JPRO allows for many parameter adjustments, including max road and cruise speeds, idle shutdown, PTO, VSS, Trip Information, and more! Coverage varies by manufacturer, so please visit our coverage chart for complete details.
4.What adapters work with JPRO?
For the most reliable connection and functionality, we recommend a Noregon DLA+ 2.0 adapter but any RP1210C compliant adapter should work with JPRO.
5.If I buy JPRO, do I need anything else?
JPRO software requires a compatible Windows based PC, laptop, or tablet, RP1210C compliant adapter, and the appropriate cable that connects the computer to the vehicle's OBD-II, 9-pin, or 6-pin port.
PLEASE NOTE: JPRO's HD support for Mack and Volvo only supports the following adapters: • Noregon DLA+, DLA+ Wireless, DLA+ 2.0, DLA+ 2.0 Wireless, and DLA+ PLC • Vocom 88890300 • NEXIQ USB-Link, USB-Link 2
PLEASE NOTE: Ford, GM, Isuzu or Sprinter mediud-duty vehicle require any of the following adapters for connection: Noregon DLA+, DLA+ Wireless, DLA+ 2.0, DLA+ 2.0 Wireless
6.Do I need internet access for JPRO?
An internet connection is not necessary for connecting to the vehicle, or for using many features in JPRO, but certain tools like Fault Guidance and NextStep Repair require an active connection. Additionally, setup, updates, license verification, or submission of information to third-party warranty systems require internet access.
7.Can JPRO perform bi-directional vehicle tests?
Yes! JPRO comes loaded with industry-leading bi-directional tests for the makes and models you commonly repair. For a full list of included tests, visit our coverage chart.
8.If I have OEM software, why do I need JPRO?
Diagnosing on a component-by-component basis is time consuming in an industry where time is extremely valuable. JPRO covers all components on the vehicle to provide users with a holistic view of total vehicle health.
JPRO automatically detects all components on the vehicle, down to the serial number, so you don't have to choose which application is needed to diagnose the vehicle. If you do need additional information from your OEM applications, JPRO will launch the application and/or its associated troubleshooting manuals directly.
9.Can JPRO adjust user-configurable parameters such as road speeds or idle shutdown settings?
Yes! On certain vehicles, users can adjust max cruise speed, max road speed, idle shutdown times, and enable/disable cruise control. Visit our coverage chart to see which vehicles currently allow parameter changes.
10.What OEM applications come with JPRO?
Although installed OEM applications can be launched directly from JPRO, OEM applications are not included with your purchase. JPRO is intended to alleviate the need to use many different OEM applications by providing coverage for all makes, models, and components.
11.Can JPRO perform ECU programming?
Due to security and safety concerns, JPRO does not allow users to reprogram ECUs.
12.Does JPRO support Autonumen?
Yes. View our coverage chart for additional details.
13.Can I look at the data in log files?
To protect the vehicle owner's vehicle data, log files are stores in a format that cannot be read with a simple text editor. However, log files can be played back with JPRO's playback function to view all vehicle data as it was during the original connection.
14.What is the default location for saved log files?
JPRO stores log files by default in the C:\JPROLogs\ folder on your device.
15.What kind of computer and operating system do I need to run JPRO?
Supported Operating Systems:
Windows 8 and 8.1 Pro (32 or 64 bit English, 32 bit Spanish)
Windows 10 (32 or 64 bit English, 32 bit Spanish)
Hardware Requirements:
Minimum: 4GB RAM, 20 GB of available hard drive space, Intel Core i3 processor, and 1024×768 sized monitor
Recommended: 8GB RAM, 20 GB of available hard drive space, Intel Core i5 processor
USB port for Noregon DLA+ or DLA+ 2.0 adapter
Noregon recommends using a Panasonic Toughbook, but JPRO will work on any current PC running Windows 8 or Windows 10
16.Does software remain active if I don't renew my subscription?
To ensure customers have the latest features and coverage, JPRO can only be used with an active subscription. This subscription includes several updates each year. If you need to renew your license, contact our sales team at 855-889-5776 (option 3).
17.How do I download my software?
Once you've been sent your license key, you can visit our download page to download JPRO software. For OE software or trouble downloading, contact our sales team thorough our Contact Us page or at 885-889-5776 (option 2).
18.How much does it cost to renew my subscription?
Subscription costs vary. Please contact Sale (option 3) to discuss renewal options and costs based on your software package.
19.Does JPRO work internationally?
JPRO is designed to work on vehicle utilizing communication protocols used in North American manufacturing standards. These protocols include:
Support for heavy-duty SAE J1587/J1708, J1939, ISO 15765, and KWP2000 messages
Support for reading and display of HD-OBD Emissions faults in standard fault display
Medium Duty support for reading emissions faults and data from all standard US OBD vehicles since 2007
Support for medium-duty ISO 15765, IS 14229, J1850, GMLAN (CAN-based), and KWP2000 (CAN-based) messages
If you want to learn more about Car Diagnostic Tools , welcome to contact with us: Service@autonumen.com