There are some Mercedes Benz MB Star C3 C4 in the markets, they are almost first choice for Mercedes Benz Diagnosis and popular in customers. As new generation Mercedes Benz MB SD Connect Compact C4 come out, more and more people prefer to choose MB SD C4 now. Why people like MB SD C4 better, but sometimes people mixture MB SD C4 and MB Star C4; still some people like classic MB Star C3, while they feel confused, which one is better, which one to buy, which one is best for their need, here we collect the information simply, hope it is helpful you
Following Mercedes Benz Star diagnosis tool is sold on our website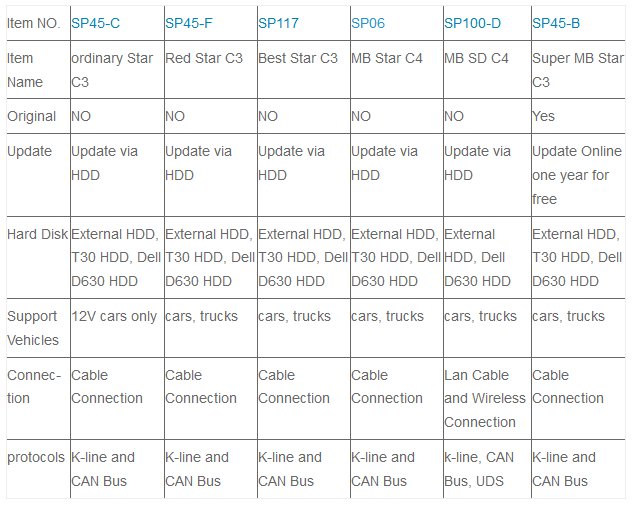 In conclusion and supplement:
1. SP45-C, SP45-F, SP117, SP06 have same software, with different quality of hardware, the main unit of MB Star C4 is smaller than MB Star C3. Main unit of SP117 is best quality(comparing with other mb star c3, c4, except for super mb star c3)
2. Except super mb star c3 can update online one year for free, other Benz Star update via hard disk, you can buy newest software alone when newer software come out
3. Car Diagnostic Tools MB SD C4 has UDS chip, it support UDS Protocol, not only K-Line and CAN BUS protocols, while other MB Star diagnostic tool without UDS Chip, do not support UDS Protocol
4. MB SD C4 support Lan Cable and Wireless Connection, more convenient than other star diagnosis; other Benz Star interface only support cable connection.