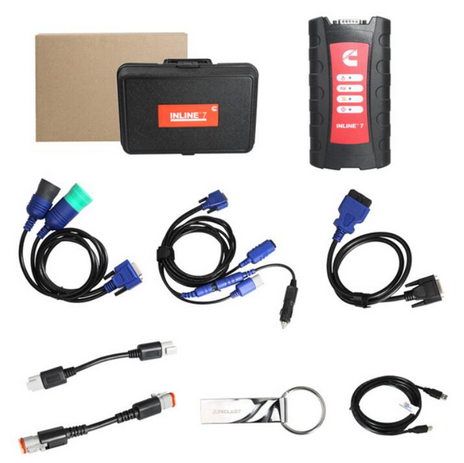 So many friends wonder what is different betweeCummins INLINE 7n  and NEXIQ USB Link 2. Let me share some users' experience as following:
1:Cummins INLINE 7 Data Link Adapter Cummins Truck Diagnostic Tool with Cummins Insite 8.5/8.7 Software
Cummins INLINE 7 Data Link Adapter has a faster processor, more robust algorithms, larger memory buffers and more sophisticated filtering than previous models while simultaneously accessing multiple vehicle data channels. INLINE 7 supports USB, WiFi and Bluetooth technologies in a single device.
2: NEXIQ 2 USB Link + Software Diesel Truck Diagnostic Tool With All Adapters
NEXIQ 2 Support Heavy-Duty, Light-and Medium-Duty Trucks, CONSTRUCTION EQUIPMENT like (Wheel loader, Articulated Hauler and Excavator), Genset.
Cummins 7 is built by Nexiq for Cummins. and the Cummins have both Bluetooth and wifi and slightly faster even when looks same. the Nexiq 2 just have the Bluetooth you can choose.
Nexiq 2 have more protocols than Cummins 7,for example the Cummins 7 doesn't work with Hini ,Toyota, Isuzu.
Cummins 7 for everything from ddct to Jpro and N14,from old to new works great for programming real fast,sometimes Cummins only like Cummins adapters, like N14 m11 570 .
If you want to learn more about that Cummins 7 and Nexiq 2,  you can search on our store : https://www.obdii.shop.