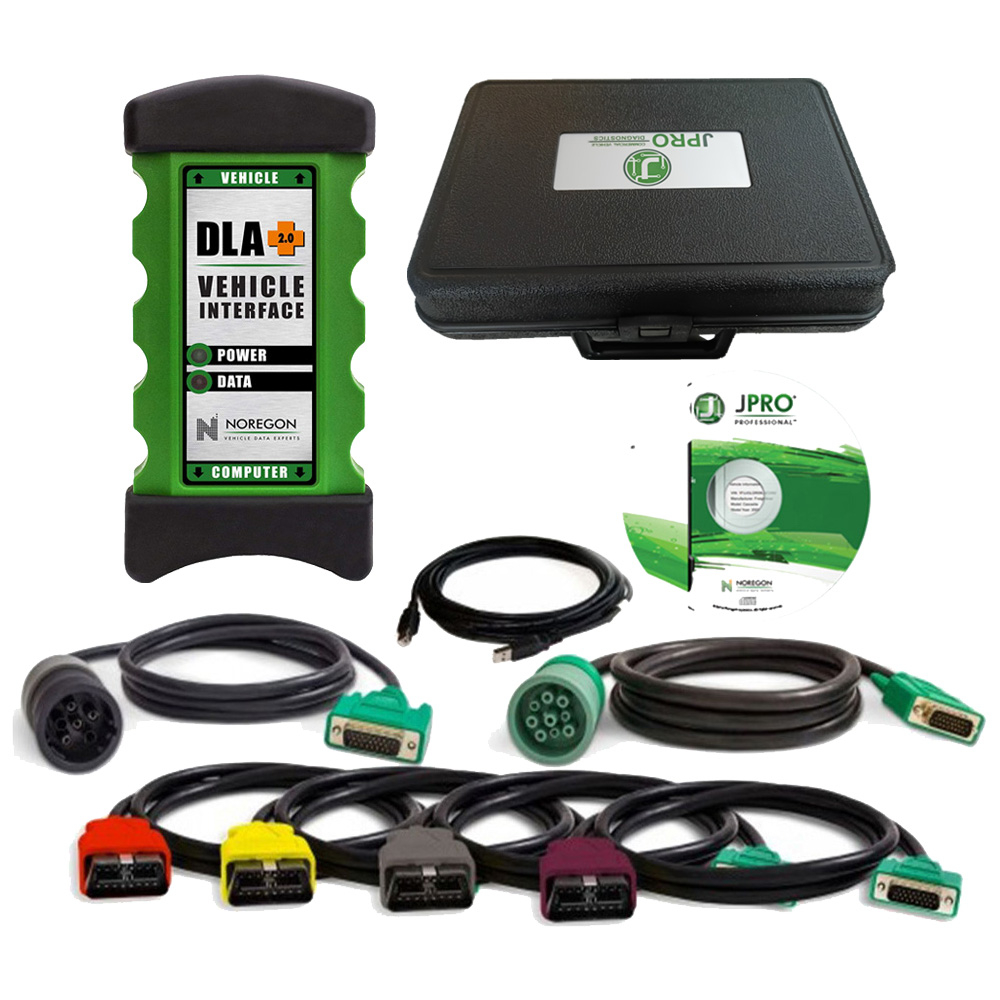 In the world of heavy-duty vehicle diagnostics, having a reliable and efficient diagnostic tool is crucial. Enter the Noregon JPRO DLA+ 2.0 Diagnostic Kit, a game-changing device that has been making waves in the industry. This article will explore the key features and benefits of this innovative kit, shedding light on why it has become a go-to solution for professionals in the field.
The Noregon JPRO DLA+ 2.0 Diagnostic Kit is a comprehensive adapter kit that offers a seamless connection between a vehicle and a PC. Equipped with a USB cable, this heavy-duty diagnostic communication device allows users to access diagnostic and vehicle information, perform reprogramming tasks, and make parameter adjustments effortlessly. What sets this kit apart is its compatibility with all original equipment manufacturer (OEM) software, ensuring that it can be seamlessly integrated into existing diagnostic systems.
One of the standout features of the Noregon JPRO DLA+ 2.0 Diagnostic Kit is its versatility. Designed to work with a wide range of heavy-duty vehicles, including trucks, buses, and construction equipment, this kit caters to the needs of various industries. This adaptability makes it a valuable tool for fleet managers, mechanics, and technicians, as it eliminates the need for multiple diagnostic devices or software programs.
The kit's user-friendly interface is another notable aspect. Noregon has prioritized ease of use, ensuring that even those with limited technical expertise can operate the device with confidence. The intuitive interface and straightforward navigation allow users to quickly access the information they need, saving time and improving overall efficiency. Additionally, the kit provides real-time data and live monitoring capabilities, enabling users to diagnose and troubleshoot issues promptly.
Furthermore, the Noregon JPRO DLA+ 2.0 Diagnostic Kit boasts exceptional reliability and durability. Built to withstand the demands of heavy-duty vehicle diagnostics, this kit is designed to last. Its rugged construction ensures that it can withstand harsh environments and extreme conditions, making it a reliable companion for professionals working in the field.
When it comes to support and assistance, Noregon has cemented its reputation as a leader in the industry. The company provides comprehensive training and technical support to users of the JPRO DLA+ 2.0 Diagnostic Kit. This ensures that users can maximize the full potential of the kit and troubleshoot any potential issues effectively. The commitment to customer satisfaction is evident in Noregon's dedication to ongoing product improvements and updates, ensuring that users always have access to the latest diagnostic capabilities.
In conclusion, the Noregon JPRO DLA+ 2.0 Diagnostic Kit is a game-changer in the heavy-duty vehicle diagnostics industry. Its compatibility with OEM software, versatility across various vehicle types, user-friendly interface, reliability, and exceptional customer support make it the go-to diagnostic tool for professionals in the field. Investing in this kit not only improves efficiency but also enhances the overall diagnostic experience, allowing users to diagnose, troubleshoot, and maintain heavy-duty vehicles with ease.
FAQ:
1.What does JPRO do?
JPRO empowers diesel technicians to diagnose and repair all makes, models, and components. JPRO reduces a technician's dependency on OEM software by offering industry-leading bi-directional controls, including DPF regens, cylinder cutouts, parameter changes, and much more.
2.What trucks will JPRO work on?
For commercial vehicles, JPRO is an all makes, models, and components solutions. For detailed information, check out our coverage chart.
3.Can JPRO adjust parameters such as road speeds or idle shutdown settings?
Yes! JPRO allows for many parameter adjustments, including max road and cruise speeds, idle shutdown, PTO, VSS, Trip Information, and more! Coverage varies by manufacturer, so please visit our coverage chart for complete details.
4.What adapters work with JPRO?
For the most reliable connection and functionality, we recommend a Noregon DLA+ 2.0 adapter but any RP1210C compliant adapter should work with JPRO.
5.If I buy JPRO, do I need anything else?
JPRO software requires a compatible Windows based PC, laptop, or tablet, RP1210C compliant adapter, and the appropriate cable that connects the computer to the vehicle's OBD-II, 9-pin, or 6-pin port.
PLEASE NOTE: JPRO's HD support for Mack and Volvo only supports the following adapters: • Noregon DLA+, DLA+ Wireless, DLA+ 2.0, DLA+ 2.0 Wireless, and DLA+ PLC • Vocom 88890300 • NEXIQ USB-Link, USB-Link 2
PLEASE NOTE: Ford, GM, Isuzu or Sprinter mediud-duty vehicle require any of the following adapters for connection: Noregon DLA+, DLA+ Wireless, DLA+ 2.0, DLA+ 2.0 Wireless